Innokin GO Z Kit is a slim all-in-one pen-style vape kit, which made of stainless steel and PCTG plastic with lightweight dimensions, with a matte textured surface, which is very comfortable to hold in hand. Adopts 1500mAh inbuilt battery, the Innokin GO Z Kit provides you an all-day-long vaping experience.
As for Innokin GO Z Tank, it is a tank used as MTL (mouth to lung) vape and can hold 2ml e-juice. The GO Z MTL tank is made with food-grade PCTG plastic and available in three great colors (Blue, Pink, Black). It also features a 'slide to open' top-fill with a silicone seal. The tank operates for direct to lung vaping with the included specially designed 1.6ohm coil, with heads are made with organic cotton and wood-pulp wicking, it will create the intense flavors and bring you a healthy vape experience.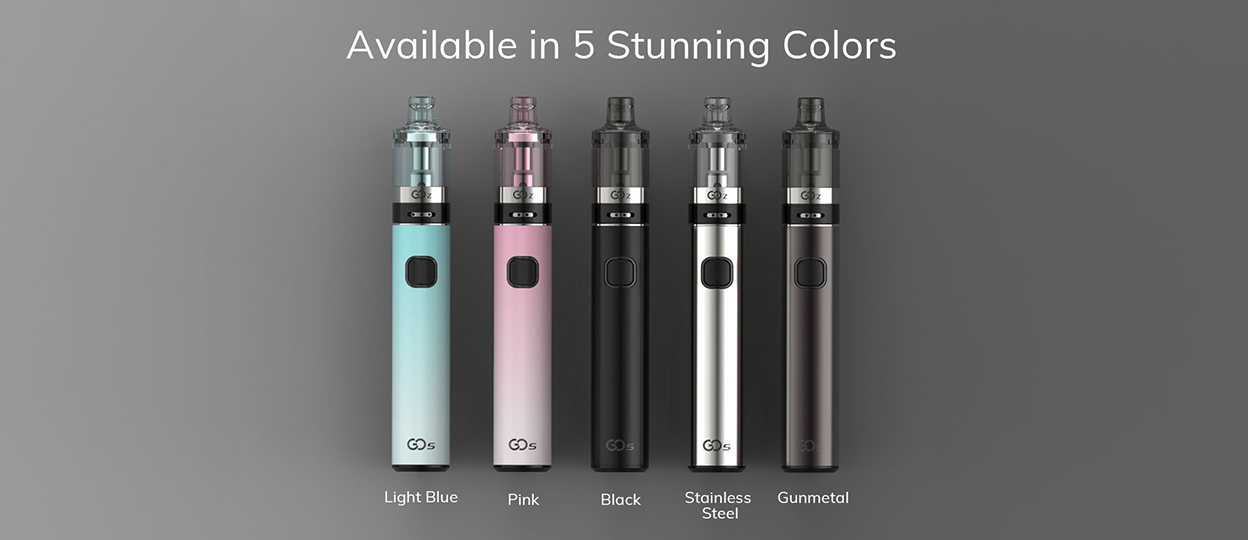 Device Dimensions: 20*129mm
Color of Product: Black, Gunmetal, Stainless steel, Pink, Light blue
Internal / External Battery: Internal battery
Battery mAh: 1500mAH / 3.7V/5.55Wh
Tank Capacity: 2.0ml
Resistance and wattage range: 1.6ohm Z coil
Resistance range: 0.6ohm-3.5ohm
Max diameter of compatible Tank: 20mm
How long the battery can last: 300 cycles of charge and discharge, a single charge can puff 480 times
Minimum / Maximum Wattage : Z Coil 1.6ohm, 13W output
Minimum / Maximum Voltage: 5.5V max
TC range: NO
Air flow: Adjustable
Top or bottom airflow? Turning tank bottom to adjust the airflow
How to fill the Tank: Push top cap to fill
Body Material: Battery: Stainless steel ; Tank: PCTG
Thread Material: Gold-plated brass
Coil material: KAL
Cut off time: 15S
Thread Type (Ego/510?): 510
Connection Type (Spring loaded?): Spring loaded
Charging Current: 800mA
Charging indicator: <30% - Red; >30% - Red & Green; full charge - Green
Battery capacity indicator: <20% - Red; 20%-70% - Red & Green; >70% - Green
Each set contains:
1pc GO S Pen Device
1pc USB Cable
1pc User Manual
Replacement Go Z tanks available here...
Replacement Go S tanks also compatible...
Batteries/Chargers
Does your device require batteries to operate?
Please check the product description for information regarding to your device and if it will need batteries and/or an external battery charger to operate. Also check the size of the battery it will require, generally being single or dual 18650 or 21700 lithium-ion cells.
Please note we highly recommend using an external battery charger for external battery devices. This is much safer and much healthier for your newly purchased batteries. If you are un-sure, feel free to contact us an we will guide you in the right direction.
Find any & all batteries you may need here...
External chargers for your device/ batteries can be found here...
Shipping/ Returns/ Warranty
WE SHIP MONDAY TO FRIDAY @ 1:30PM DAILY.
 Regular Post-:       3-7 business days Australia wide, tracking provided.
   Express Post-:       1-2 business day(s) Australia wide, tracking provided.
Orders are processed in the the same order they are received, online orders placed before 1:30pm Monday-Friday will be shipped the same day.
In the event of a lost package in transit, your order will be replaced under the conditions-: Your order has not been signed for, Your order has the correct delivery address, You have not selected safe drop as a shipping method.
 When/ If Australia post confirms your order as a lost package- we will ship your replacement products. Please contact us if you have any queries regarding shipping or orders placed.
​​WARRANTY/ RETURNS-
Before returning your item's', please read and understand your user manual supplied with your device, Use google or you-tube to identify the problem related to your device as in most cases there is a simple fix with a little research. Rule out any other problem causing factors (batteries, atomizer, e-liquids ect). If all else fails contact us and we will endeavor to solve the problem.  
Returns are accepted on faulty goods or dead on arrival mods and starter kits, Return postage is paid by the customer. We offer 3 months warranty/refund starting from dispatch of your order, Manufacturers warranties are dependent on type, brand and content.
(​Please note that returns are not accepted on batteries, e-liquids, consumables, change of mind or damage relating to misuse or human error. If we do not have a returned product in stock, we may replace it with a similar cost/ type product or gift card. Returned items may be repaired or replaced dependent on a case by case basis.) 
Everest Vape offers 3 months warranty on all devices, this does not include
Damage of a product resulting from negligence, misuse or improper storage

Damage of a product resulting from user modification of the product

Damage caused by natural disaster

Products with external signs of damage

Theft or loss of the product (including loss in transit)

E-liquid, or damage caused by e-liquid

Damage to a product caused by a faulty battery
Products Covered By Warranty:
Starter Kits
Regulated Mods
Tanks/ Atomizers
Tool Kits
Products Not Covered By Warranty:
Accessories (for example, glass, drip tip etc. except in the case of a manufacturing defect)
E-liquids and concentrate (As our e-liquids and concentrates contain food grade ingredients and are considered a consumable product, we do not allow returns or exchanges other than in the case of a manufacturing defect. We can't guarantee that you'll love every drop – taste is subjective, everybody is different, and we cannot offer a replacement or refund for any e-liquid or concentrate on the basis of your personal preferences alone.)
Coils, Cotton, Wick, and Wire (As these items are considered consumable and will degrade with use over time, the warranty period for these items does not apply once the items have been removed from their original packaging and put to use)
Micro USB Charging Ports. We strongly encourage you to use external battery chargers for your devices.